National Support. National Impact.


Many members of the Canadian Armed Forces and the Royal Canadian Mounted Police live through physically, mentally, and emotionally demanding circumstances in the service to their country. They make sacrifices, endure hardship, and in some cases, suffer significant personal loss for the betterment of others. In return, these extraordinary men, women, and family members deserve the utmost respect, compassion, and support from Canadians.
The Legion National Foundation, in partnership with The Royal Canadian Legion, works at the national level to support initiatives that positively impact the wellbeing and quality of life of Canada's Veterans and their families.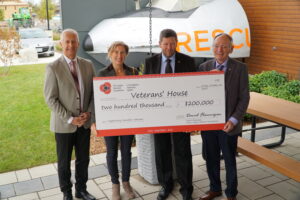 Thanks to LNF donors we can support the MHIOttawa Veterans' House
LNF Canada presented a $200,000 check to the MHIOttawa Veterans' House. This gift, made possible by generous donors, will support the capital campaign for the Andy Carswell Building—a home with on-site supports for Veterans who were formerly homeless/at risk of homelessness. We are grateful to our many LNF donors for their on-going commitment to supporting our Veterans.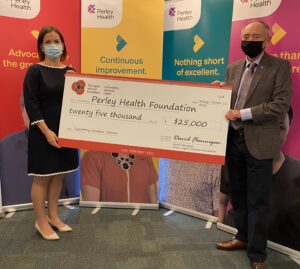 Thanks to LNF donors we can support the Perley Health Foundation
LNF Canada presented a $25,000 check to the Perley Health Foundation for the Frailty - Informed Care Program. This program strives to see residents at Perley Health for who they are, the unique strengths they bring, and the rich life experience they have. This gift is possible due to the generosity of LNF donors in their support of Veterans.
THERE ARE CHALLENGES THAT OUR VETERANS FACE AND SHOULDN'T HAVE TO.
Veterans can struggle with homelessness due to mental illness, financial challenges, family circumstances, and system failures.
Mental Health and Wellness Challenges
Some Veterans suffer active duty-related physical injuries or mental health issues such as post-traumatic stress disorder, depression, and traumatic brain injury.
Veterans can face financial struggles. Translating on-the-job military experience into civilian skills and jobs isn't always an easy process.
Navigating the transition from a life in the military to civilian life can present practical, emotional, and financial challenges for Veterans.
When you support the Legion National Foundation, you support Canada's Veterans. Support them now.
The Legion National Foundation acknowledges the contributions of Veterans in many ways.
To ensure that Veterans experience as high a quality of life as possible, The Legion National Foundation supports community organizations that focus on Veterans' health and wellness programs.
Through initiatives such as Pilgrimages of Remembrance and Remembrance-themed literary and poster contests for youth, The Legion National Foundation ensures that Veterans' contributions are acknowledged and remembered.
The Foundation fosters Veterans and their families' future well-being by providing scholarships and bursaries in support of research into Veteran issues.
Support Canada's Veterans and their families through the work of the Foundation.